Date

City

Gijón, Spain

Venue

Address

Website

Organizer

Enol Matilla

WCA Delegate

Contact
Registration period

Online registration opened and closed .

Registration requirements

This competition is over, click

here

to display the registration requirements it used.

Highlights

Click

here

to display the highlights of the competition.

Alejandro Riveiro Rodríguez won with an average of 11.67 seconds in the 3x3x3 Cube event. Ting Sheng Bao Yang finished second (13.01) and Alexander Olleta del Molino finished third (15.35).
Disponible para descargar en: https://rubikastur.jimdo.com/campeonatos/asturias-open-2017/horario/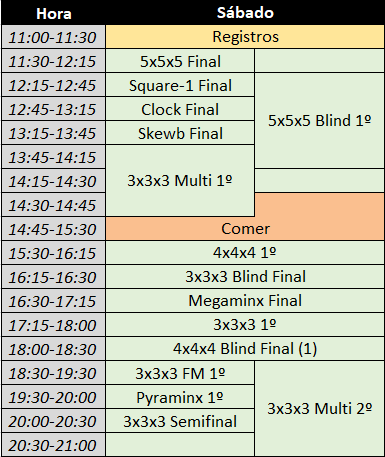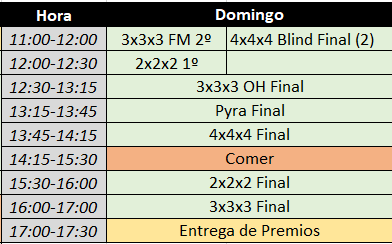 El pago del campeonato se abonará el Sábado, durante el plazo de inscripción final.
La entrada al evento se hará de forma gratuita para todos los participantes .
Se enviará un correo a los inscritos sobre cómo acceder al campeonato el primer día.
Para más información sobre la entrada y localización exacta del Open, se puede encontrar en la web oficial:
https://rubikastur.jimdo.com/campeonatos/asturias-open-2017/c%C3%B3mo-llegar
Time limit
If you reach the time limit during your solve, the judge will stop you and your result will be DNF (see Regulation A1a4).
Format
The format describes how to determine the ranking of competitors based on their results. The list of allowed formats per event is described in Regulation 9b. See Regulation 9f for a description of each format.