Brasília Spring 2017
---
Date

City

Brasília, Distrito Federal, Brazil

Venue

Address

Details

O evento ocorre no salão principal da igreja.

Contact

Organizers

WCA Delegate
Information

A taxa de inscrição deverá ser paga antecipadamente. O valor varia de acordo com as modalidades em que for competir. Para mais informações, confira na aba "Inscrição".
Events

Main event

Competitors

42
Registration period

Online registration opened and closed .

Registration requirements

This competition is over, click

here

to display the registration requirements it used.

Highlights

Click

here

to display the highlights of the competition.
Event
Round
Format
Time limit
Cutoff
Proceed
3x3x3 Cube
First round

Ao5

10:00.00
Top 30 advance to next round
Second round

Ao5

10:00.00
Top 12 advance to next round
Final

Ao5

10:00.00
2x2x2 Cube
First round

Ao5

1:00.00
Top 16 advance to next round
Final

Ao5

10:00.00
4x4x4 Cube
First round

Bo2

/

Ao5

3:00.00
2 attempts to get < 2:30.00
Top 6 advance to next round
Final

Ao5

10:00.00
3x3x3 Blindfolded
Final

Bo3

20:00.00 cumulative *
3x3x3 Fewest Moves
Final

Mo3

1 hour
3x3x3 One-Handed
First round

Ao5

2:30.00
Top 8 advance to next round
Final

Ao5

10:00.00
Megaminx
Final

Bo2

/

Ao5

6:00.00
2 attempts to get < 4:00.00
Pyraminx
First round

Ao5

1:30.00
Top 12 advance to next round
Final

Ao5

10:00.00
Skewb
Final

Ao5

1:30.00
Square-1
Final

Ao5

3:00.00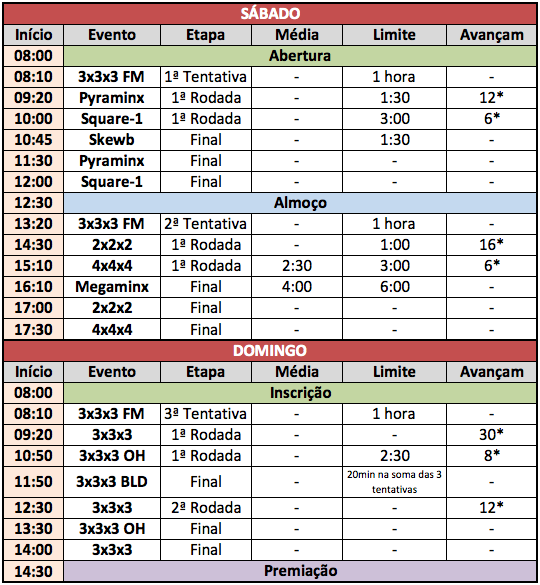 *O número de pessoas que passará para as próximas fases dependerá do número de inscritos em cada modalidade e do andamento do campeonato
A inscrição custa R$ 15,00 (taxa base) + valores das modalidades em que o competidor for participar, de acordo com a tabela abaixo:
A inscrição antecipada inclui um brinde do campeonato e é aberta a qualquer pessoa, de qualquer nacionalidade. É imprescindível ter lido as regras da WCA. A entrada para o público é livre. Clique aqui para se inscrever. Se tiver dificuldades em se inscrever, veja como fazer nesse vídeo.
As inscrições serão encerradas no dia 20 de novembro às 23h59 (horário de Brasília - inscrições não pagas não são válidas. Portanto, não serão aceitos pagamentos após o prazo de inscrição!). Inscrições no dia do campeonato só estão abertas para o 3x3 (não garantimos o brinde para inscrições no dia). ATENÇÃO: sua inscrição não estará completa até a confirmação do pagamento! Por favor, entenda que o pagamento da taxa de inscrição demonstra o compromisso de participar, e os organizadores usam essa informação para planejamento e organização do campeonato. Por esse motivo, as taxas de inscrição não são reembolsáveis. Se desejar fazer alguma alteração nos eventos em que vai participar, favor entrar em contato com os organizadores.
Instruções de pagamento (por transferência bancária ou depósito):

Banco do Brasil - 001
Agência: 3590-4
Conta-corrente: 9157-X
Titular: Marlon de Vasconcelos Marques
CPF: 025.114.091-19

OBS: para fins de controle, favor enviar o comprovante de depósito para marlonvmarques@gmail.com (pode ser uma foto de celular).
Visando ao bom andamento da competição, ao se inscrever em uma categoria, você se compromete também a ajudar como juiz ou embaralhador nessa categoria (conforme previsto nas regras da WCA). Dessa forma, a competição se torna auto-sustentável, e as atividades são divididas entre todos os participantes, não ficando pesado para apenas alguns. Foram feitos pelo menos dois grupos em cada modalidade. Em um dos grupos você compete e no outro ajuda a embaralhar ou sendo juiz dos competidores.
Os resultados serão postados assim que possível (talvez logo após cada modalidade) no site da Cubecomps.
Os resultados estarão disponíveis também alguns dias após o término do torneio no site da WCA.
Time limit
If you reach the time limit during your solve, the judge will stop you and your result will be DNF (see Regulation A1a4).
A cumulative time limit may be enforced (see Regulation A1a2).
Cutoff
The result to beat to proceed to the second phase of a cutoff round (see Regulation 9g).
Format
The format describes how to determine the ranking of competitors based on their results. The list of allowed formats per event is described in Regulation 9b. See Regulation 9f for a description of each format.